BACKGROUND
Laparoscopic surgery is a special skill that every gynecologist wants to learn. With increasing patient demand, it has become a need of the hour to get well worse with this technique. In spite of a strong desire to learn, it gets difficult to travel for training courses for a long duration, leaving behind established practice or availing long leave. To add further, there are expenses of traveling, lodging & boarding in an unknown city.
Teaching surgery without going to operation theatre appeared impractical, till now. However, advances in digital technology and the facility of sharing screen for teaching purposes, availability of conducting live sessions, live chat for question answers & online meeting with many students inspired us to launch online courses on laparoscopy to cover most topics in a carefully designed manner.
ONLINE TRAINING THE CONCEPT
STEP BY STEP TRAINING
While we are flooded with innumerable surgical videos for complex surgeries on media, there are just a handful of doctors who have reached this stage. To many, doing this appears impossible as they do not even understand the basics concepts as how to decide port sites, fear of injury by blind insertion of trocar, electro-surgery, tackling bleeding etc. Our teaching although on the web, it is in a classroom like, hand holding fashion. Student can have one to one interaction with the mentor. Teaching is very simplified with digital aids to convey the subject clearly.
How is this tutorial different from other online learning platforms?
Whenever someone searches a particular topic on internet, one is lost in hundreds of results & rarely gets what one is looking for. There is no mentor to solve queries in the digital world. This tutorial includes all the relevant topics required to acquire laparoscopic skills, in a crisp, time bound course. We focus less on theory and more on practical tips. We take the student from basic topics to understand the concept of gynecological endoscopic surgery with relevant laparoscopic anatomy and then from simple surgeries to complex cases. Student will be free to interact with the mentor for clarifying doubts. As there can be unforeseen presentations of a disease, we cover every possible situation which can arise for a given pathology.
What is the study material like?
We have explained the topics as the basic theory explained in a classroom like fashion and not just sharing slides, with visual examples at every step. This is followed by a practical demonstration of the same topic in a surgical video with narration.
How does one get an experience of live surgeries through an online course?
We have a large number of videos on almost every topic, which will be a part of the curriculum with detailed explanation. Each step is shown in multiple videos to explain variable techniques in different patient types. After completion of the course and clearing an exam, student can come for experience on pre-decided dates for intensive pelvi trainer training and experiencing live surgeries in a two day workshop.
What are the added advantages of this course?
Student will have free access to paid Gynae endoscopy websites through the mentor for 4 months. There are options of two days live surgical experience & telementorship for six months at heavily discounted rates for the students enrolling in this course.
Weekend Surgical Workshops
Two days live surgical experience for the students enrolling in this full course, at a later date with minimal fee.
Telementorship
We also offer six months of telementorship where students can communicate online with the mentor while performing surgeries.
Training Process for Online Course -
1. Enrolment of the Online Course
Student must click on register now and fill the form. Once we verify your details, we will send you the payment link through email/whatsapp.
2. Duration of the Online Course
Each class is of about 30 – 40 minutes duration. Each step has 7 lessons. There are 3 steps in the complete learning. Total: 4 Month Course.
3. Stepwise approach
Once registered, a stepwise course link would be shared on your email.
4. Validity of the Online Course
After stepwise release the student will have access to the entire course for another 4 weeks.
5. Examination
The student must clear an online exam, at the end of 4 months.
6. Certificate of Completion
A completion certificate will be issued after the clearance of the exam.
7. Live surgical experience (not included in online course)
After completing the online course and clearing the exam, one can come for two days training. This will include live surgical experience in operation theatre & extensive training on pelvi trainers with direct supervision of mentor at a nominal fee.
8. Telementorship (not included in online course)
We also offer six months of tele mentorship where student can communicate online with the mentor while performing surgeries, at special discounted rates.
For Best learning experience
Watch the videos on a laptop for best resolution.
You are advised to use headphones for clear sound.
After listening to the lecture, Watch the videos,then once again go back to the lectute for better grasp of the subject.
Any queries coming to your mind while watching video,should be noted down imediately. If you don't find answer till the end,feel free to connect with us through comment box.
Use this course as a base,and you can benefit by continuing to add more knowledge through further reading & experience.
Step 1 of the Course -
Lesson 1. All about the endo vision system.
Lesson 2. Know your laparoscopy instruments & trolley setting.
Lesson 3. Sterilization & upkeep of laparoscopy set.
Lesson 4. How to apply ergonomics in laparoscopic surgical OT?
Lesson 5. Tips to prevent positional injuries to patients in laparoscopy OT.
Lesson 6. Electrosurgery & clinical application.
Lesson 7. What should a gynecologist know about anaesthesia in laparoscopy?
Step 2 of the Course -
Lesson 1. Laparoscopic anatomy, port placement & safe entry techniques. Port placement in special situations.
Lesson 2. How to apply ergonomics in port site selection?
Lesson 3.Tissue retrieval techniques
Lesson 4. Hemostasis – Principals & techniques.
Lesson 5. Laparoscopic adhesiolysis – mild to dense adhesions
Lesson 6. Laparoscopic ovarian drilling, Ovarian cystectomy – dermoid, endometrioma & other benign cysts
Lesson 7. Recording, record keeping & tips for laparoscopy practice.
Step 3 of the Course -
Lesson 1. Ectopic pregnancy – Tubal, caesarean scar pregnancy & others
Lesson 2. Tubal surgery – Fimbrioplasty, neosalpingostomy, clipping, tubo-tubal anastamosis.
Lesson 3. Laparoscopic suturing – in easy steps
Lesson 4. Laparoscopic hysterectomy
Lesson 5. Laparoscopic myomectomy
Lesson 6. Troubleshooting In laparoscopy
Lesson 7. Avoiding & managing complications
What our Students Say: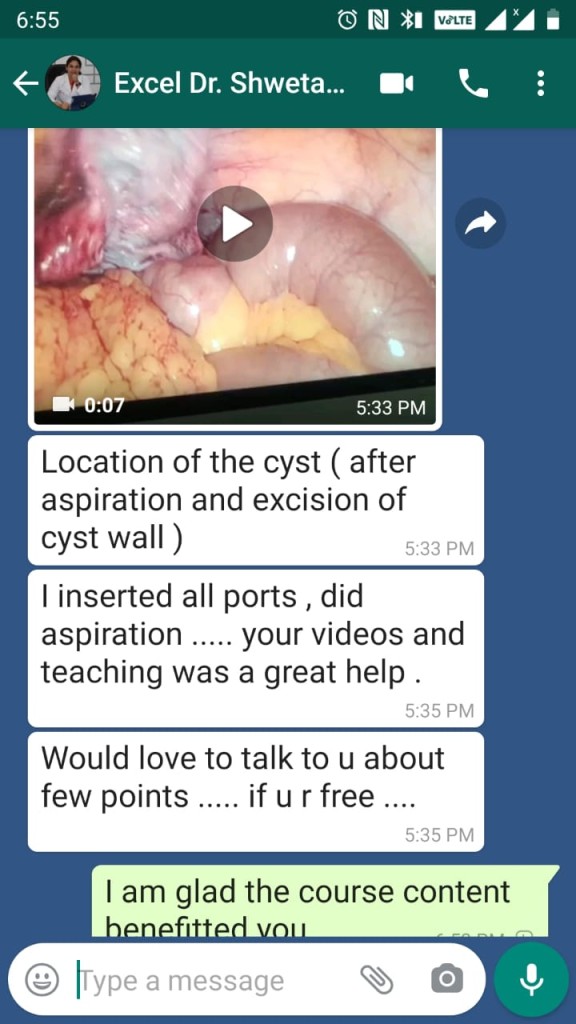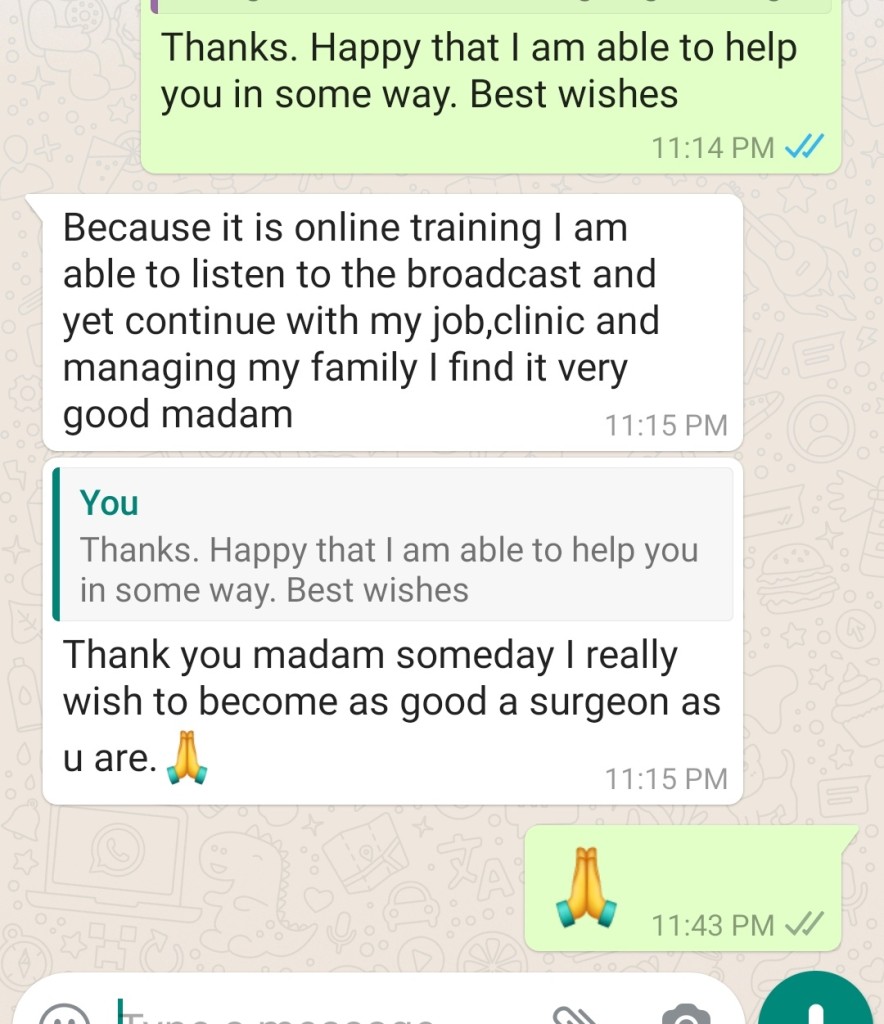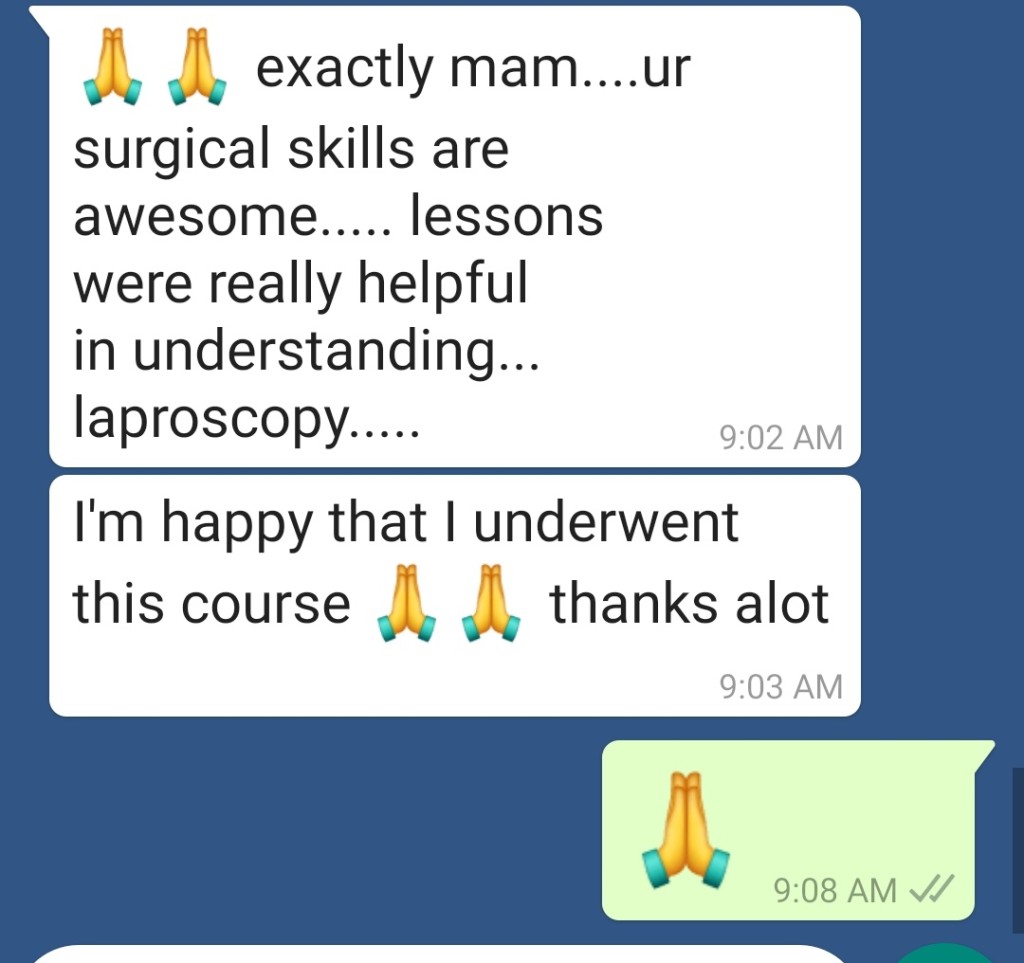 Excel Academy course fee July to Nov 2023 batches
For July batch
From 1st May – 31stMay: Rs. 10,499
From 1st June – 20th June: Rs. 10,999
From 21st June – 30th June: Rs. 14,999
For Sept batch
Before 31st May: Rs. 9999
From 1st July – 31st July: Rs. 10,499
From 1st Aug – 20th Aug: Rs. 10,999
From 21st Aug – 31st Aug: Rs. 14,999
For Nov batch
Before 31st Aug: Rs. 9999
From 1st Sept – 31st Sept: Rs. 10,499
From 1st Oct – 20th Oct: Rs. 10,999
From 21st Oct – 31st Oct: Rs. 14,999
Limited Slots Available! Enrol Today!
You may avail the Early Bird Offer and block your seat for any of the 3 batches.
Contact Us
E-Mail: drjyotimishrasacademypvtltd@gmail.com
Mobile Phone/Whatsapp : +91 9958589500
How can I get further guidance after this course?
We offer the following programs. Fellowships and other Trainings programs:
Basic Gynae Endoscopy Training – 2 weeks
Advanced Gynae Endoscopy Training – 4 weeks
Diploma in Gynae Endoscopy – 3 months
Fellowship in Gynae Endoscopy – 6 months
FOGSI endoscopy training courses- Basic & Advanced